Carter-Finley Stadium Seating Chart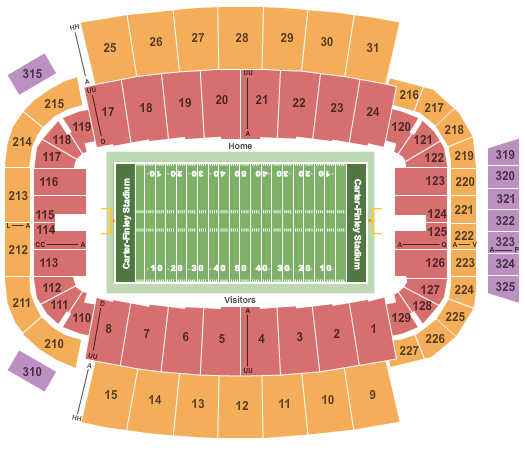 NOTE: Seating layouts can change depending on the type of event. The individual seating chart for the event can be seen when selecting your tickets.
Carter-Finley Stadium is divided into sections not only by upper and lower levels but also by end zone and sideline. The lower level sections along the sidelines are numbered 1-8 and 17-24, where 17-24 are behind the NC State sideline. The upper-level sections near the sidelines run from 9-15 and 25-31, with 25-31 on the NC Stateside. Along the home sideline, there is also a series of club-level seating and suites that may be available.
The lower level in the end zones runs from 110-129, while the middle level in the end zone runs from 210-227. The end zone on the northwest corner of the stadium also features an upper level in sections 319-325.
Please note that the designated student areas are located in sections 110-129, as well as sections 6-8 and 321-326. A student ID may be required for admission. Some sections are also reserved for faculty and staff (sections 5-6 and 320) and former athletes (sections 1L and 17L). These sections are colored in Yellow in the above seating chart diagram.
The best seats in the stadium are none other than in Sections 4H & 5L for visitors. Where else, Wolfpack fans should try to look for seats in Sections 20H and 21L. These seats are in the orange tier and are the nearest to the 50-yard line.
Grab your tickets today and choose your desired seats. Visit the Carter-Finley Stadium schedule to select your event.
To view our ticket & refund policy please check the ticket information page.